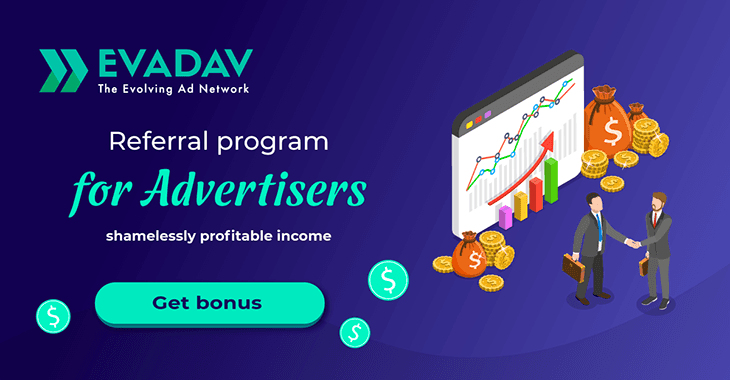 Referral program for advertisers: the way to get higher profit
EASY AND PROFITABLE AF: REFERRAL PROGRAM FOR ADVERTISERS
#evadavnews
It's not a secret that hustling with traffic is super profitable. Those who don't know about it, have never worked with us. Nevertheless, we never stop on just good money for our partners. Here in Evadav we want all advertisers to earn more and more… and even more. Sky's the limit. That's the goal our UNIQUE REFERRAL PROGRAM FOR ADVERTISERS aims at.
In details:
Due to our program every Evadav advertiser can raise the profit fast and with no extra investment.
You bring new users and get a reward for each. The more new users follow your invitation the more you get.
How does it work?
No need to work with us for a long time. You can start engaging new partners right away, even if you're not that skilled in working with our affiliate network.
1. Sign up or be already signed up on our platform.
2. Find your referral link in "Referral Program" section, copy and share it with potential partners.

Note!
New advertisers should follow YOUR referral link. So that the system processed new partners' data correctly and assigned them under your account.
3. Right after the evadav registration you can see your referral partners in your account real-time stats:

4. As soon as invited advertisers buy any ads formats in total $500 and more, you'll get $50 for EACH of them:

By the way, not only you get $50, but every new advertiser (brought by you) will get $50 as well after spending $500.
5. In order to withdraw earned commission, transfer it to your publisher or advertiser balance. As you wish.

That's it! You don't need to do anything else: money is in your pocket.
How to raise profit and start earning even faster?
You need to find the way to engage your colleagues-advertisers to follow your referral link and start working with our platform. Give them tips on which ads formats are the most profitable and better to work with. Remember: you only start earning when advertisers spend more than $500 on ads.
Who might become your referral advertiser?
1) Friends and colleagues: tell them about Evadav. Share with them your experience and case studies – it will raise your chances to engage new partners.
2) Social media subscribers and followers: make a post, publish a review or an article describing your experience of working with Evadav. Show them your profit amounts and don't forget your referral link!
3) Forums users: search forums, chats, discussion groups and the same platforms as they are a great source of new evadav referrals.
Be proactive!
We don't set a limit on the amount of referrals brought.
In conclusion, you'll get more active advertisers and, therefore, higher profit!
Should you have any queries or comments, contact your personal manager. We're always happy to assist you.
EARN TONS OF MONEY WITH EVADAV REFERRAL PROGRAM FOR ADVERTISERS