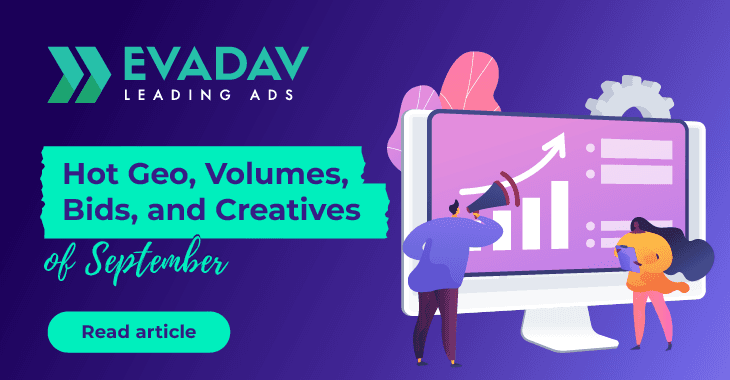 Navigating Affiliate Marketing: Top GEOs, Winning Bids, and Creatives
🚀 Unleashing Advertising Insights: Push Notifications, In-Page, Pop Ads, and Native Ads! Top Geo, Recommended bids, and much more🚀
Hello, Advertisers & Affiliates!
As we embrace the autumn season, EVADAV Leading Ads is your trusted ally on the path to affiliate marketing triumph. Our mission? Equipping you with the wisdom and tools vital for affiliate domination. Bid farewell to August with an in-depth exploration of high-performing affiliate verticals, GEOs, Volumes, and bids. 📊
📢 Let's dive into the benefits of each advertising format:
Push Notifications Benefits:
Instant Engagement: Grab user attention swiftly.
High Conversion Rates: Boost ROI with targeted notifications. Use retargeting.
Real-time Promotions: Perfect for time-sensitive offers.
Wide Reach: Reach users even when they're not on your site.
Segmentation Power: Target specific user groups effectively.
In-Page Ads Benefits:
Seamless Integration: Enhance user experience seamlessly.
Rich Media Support: Utilize images, gifs, and more.
Precise Targeting: Reach your ideal audience precisely.
Interactive Content: Engage users with interactive elements.
High Visibility: Capture attention within the content flow.
Pop Ads Benefits:
Attention-grabbing: Pop-ups demand immediate notice.
Broad Reach: Reach a wide spectrum of users.
Cost-Effective: Achieve results without breaking the bank.
Geo-Targeting: Tailor your pop ads to specific regions.
Timing Control: Display pop-ups at strategic moments and with optimal frequency.
Native Ads Benefits:
Seamless Blend: Native ads seamlessly fit with content.
Enhanced Trust: Users trust native content more.
Credibility Boost: Elevate your brand's reputation.
Higher Engagement: Native ads receive better interaction.
Content Variety: Explore different content formats.
🌍 Now, let's unveil the top 10 verticals that are making waves in affiliate marketing for September:
Dating
Finance
iGaming
Trading
Apps
Utilities
Betting
Gaming
Software
Sweepstakes
Crypto
💡 Additionally, here's a special section just for US Push Ads Creative ideas in various verticals. Explore and elevate your push ad game! Stay tuned to our blog for the latest push ad creatives tailored to different verticals.>>


Investment:
Finance:
iGaming:
Games:
Dating:
E-commerce:
Sweepstakes:
Antivirus:
Applications:
Travel:
Astrology:
🚀 Now, armed with these insights, you are ready to optimize your affiliate marketing campaigns. Let's grow together and set new records in the affiliate marketing industry!
Go to your account and create an advertising campaign>>
Read also: Step-by-step guide "How to become a successful advertiser": top formats, verticals, geo, and traffic sources