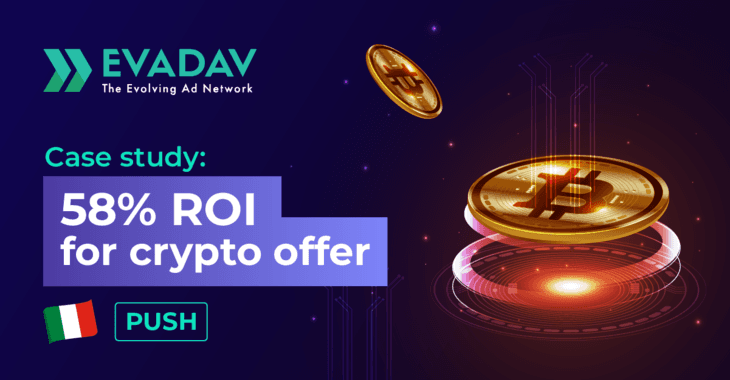 Launching campaigns to Crypto offers with Push notifications from Evadav
Push advertising and it's power: case study
Disclaimer: Please note that our partner contributed to this case. All views and ideas exposed in this article belong to the author and do not show the official policy or attitude of Evadav.
Traffic: Push Notifications from Evadav

Partner network: AIVIX

Offer: Bitcoin Era [3545] и Bitcoin System [3649]

Campaign period: 01.04.2020 — 01.05.2020

GEO: Italy

Total spent: $1730

Total Revenue: $2750

Net profit: $1020

ROI: 58%

The case is on how to earn cash while in quarantine, using ingenuity and the right source))
Spring of 2020, the coronavirus is raging in Italy ... Launching crypto with push notifications there was not an obvious decision at all, but as you can see, it was quite profitable :)
I decided to launch crypto through Aivix since they have the best market expertise in this vertical. The manager immediately approved the account and downloaded converting pre-landers for me, not merged into public)
Before that, I did not work with crypto at all, but creating campaigns with other verticals from the Evadav ad network was a successful experience. I chose Italy because the network has good traffic volumes, and I don't need to set a high rate to buy back a lot. I contacted my manager (Julia, hello!), She gave me a list of white zones, specifically for Italy and for crypto. By the way, this is one of the main reasons why I do 90% of push-notifications launches through Evadav. You can immediately get a list of black and white zones for specific geo and vertical here. And not to waste your hard-earned money in the hope of someday optimizing the campaign. The main profit was brought by campaigns launched according to the white list. By the way, it will be a bonus to this case, for those who want to repeat :)
After a separate test, the desktop and mobile traffic turned off the desktop since Click2Reg is much smaller.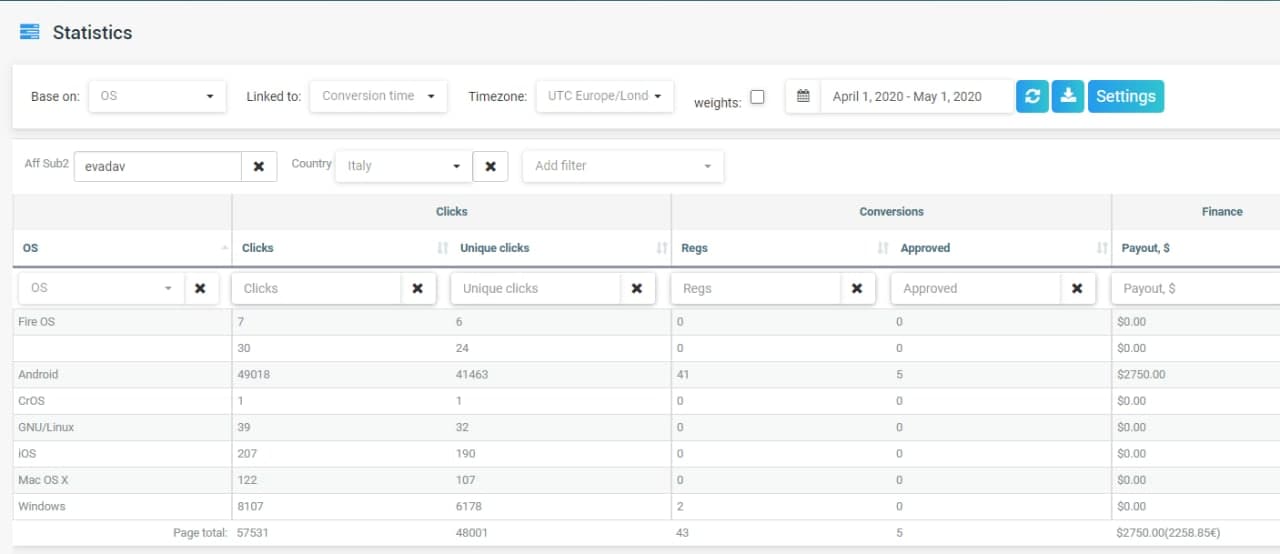 In the beginning, I was working without a pre-landing, and CR made me happy, but the manager of Aivix asked me not to do this anymore, as the quality of the lead was lower. Okay :) I had to split the pre-landers; thus, 1070 and 1155 turned out to be the best in CR in reg and dep. If you decide to repeat the case, you can request these pre-landers from your manager.

For push notifications, I used images of money, pictures with a combination of girls and large bills worked best. To weed out irrelevant audiences and not pay for extra clicks, I indicated in the text of the push that a minimum investment of $ 250 is needed to earn money.
Examples of creatives that worked best.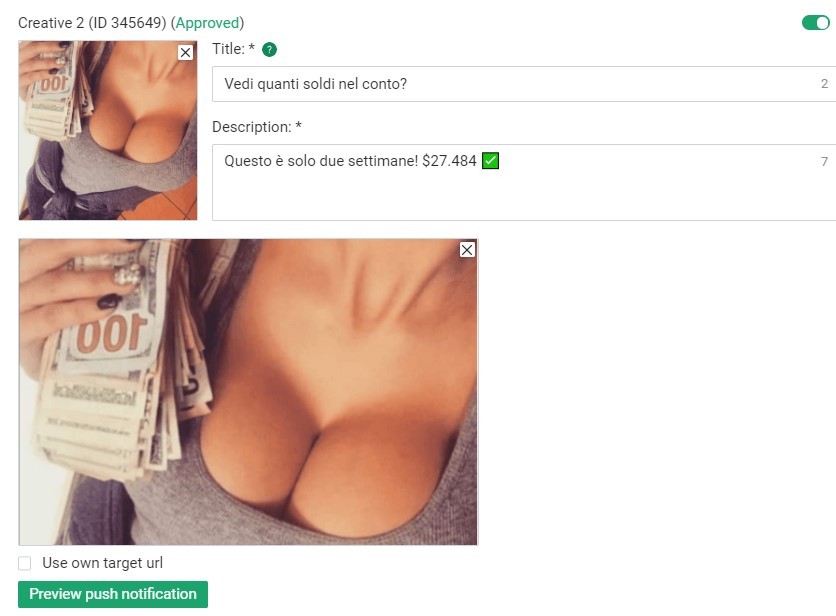 Creo attracts attention very much and does the task with a bang)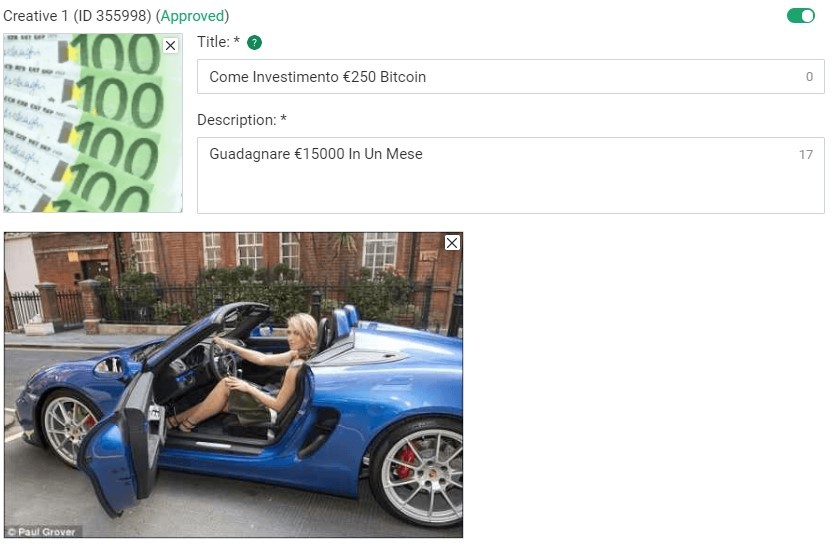 General statistics from the push network: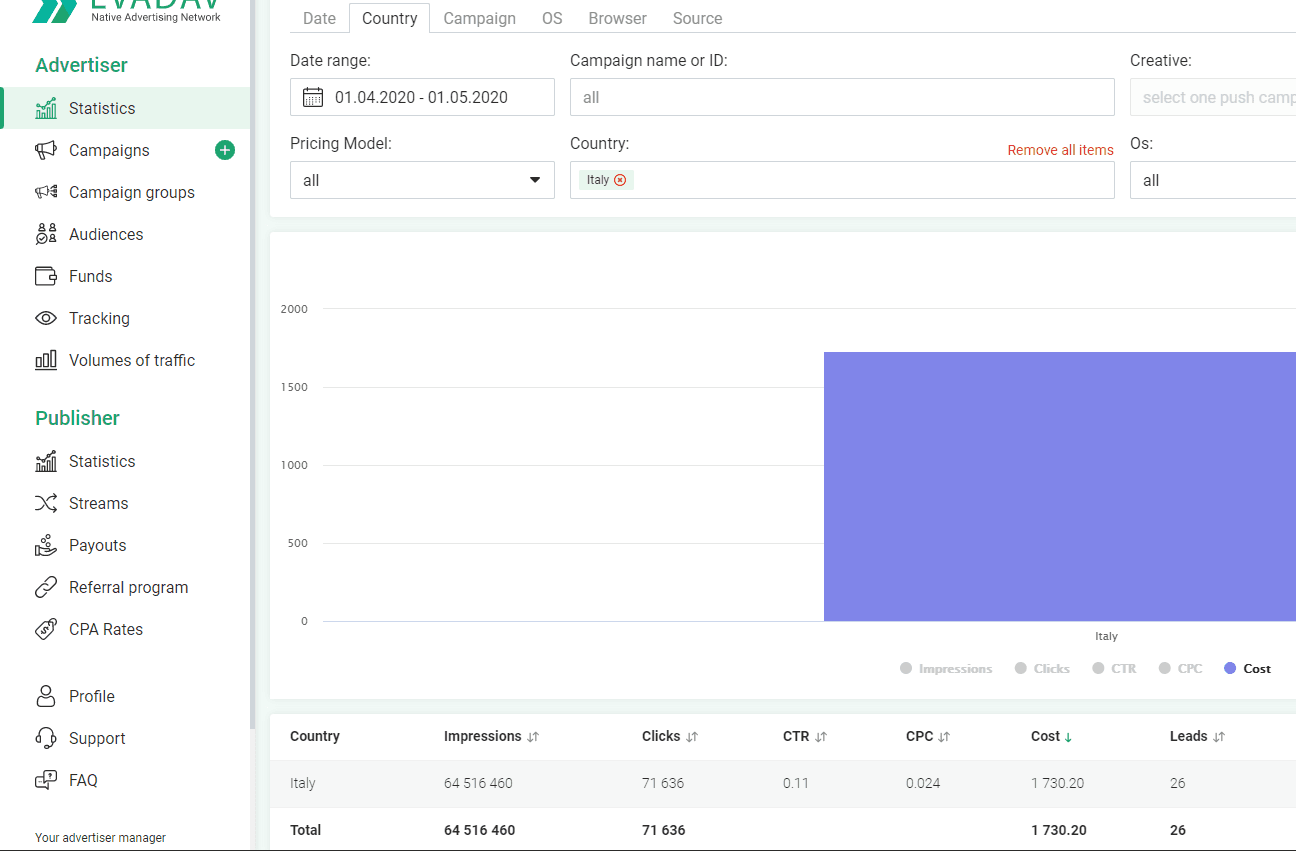 General statistics from the affiliate network:

Summing up, I see that it was not in vain that I risked trying a new traffic source. While most affiliates were trying to cheat FB at the very least, I launched a campaign in Evadav in 15 minutes, and over a month, I was reaping the benefits. Later the campaign had to be stopped, as my pre-land burned out, and there was no new one.
By the way, Italy is still at the top in terms of the envelope from registrations to deposits, so you may well surpass my result. Test different black and white lists, optimize the campaign by city and OS version, and you will definitely succeed!