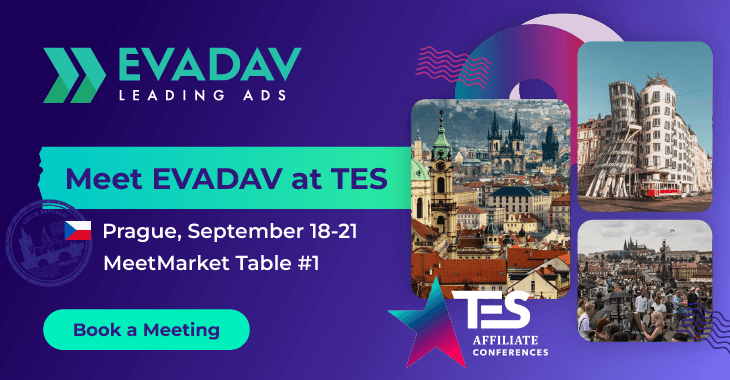 EVADAV at TES Affiliate Conference 2023
As any experienced affiliate marketer knows, success in affiliate marketing is all about constant improvement and staying up to date with trends. Community and events come to our aid, and probably everyone in this niche already knows about the biggest of them.
The most advanced affiliates, media buyers, advertisers, publishers, and content creators from all over the world will meet this time in Prague, Czech Republic, 📅 from September 18th to 21st. There will be insights and ideas exchange, over 80 speakers, booths from top market leaders and even book meetings with top company managers, networking events with food and cocktails. All participants will dive headfirst into the world of affiliate marketing in these 3 days.
We'll be glad to meet you there and get to know you personally! We invite you to our table #1 on the Meet Market, where we can discuss trends and ideas, learn more about us, and have a chat. If you'd like to schedule a meeting, you can do it by following the link below. We're always open to new partnerships and achieving maximum success with like-minded individuals!
📌 Book a meet with us here.
Stay tuned for updates to be among the first to take advantage of this opportunity!
If you have any questions, feel free to reach out to us; we're available 24/7/365.
Read Also: Best Offers for Sport and Betting Verticals