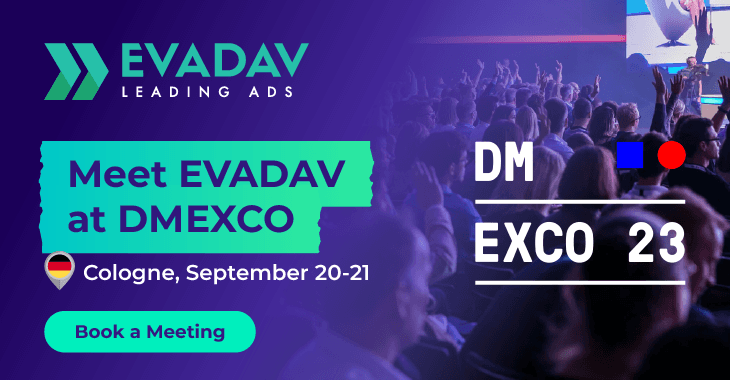 EVADAV at DMEXCO 2023
EVADAV is once again riding the trend wave, and this time our team is heading to Cologne for DMEXCO, the Digital Marketing Exposition and Conference - the leading European event in the field of digital marketing and technology!
In Cologne and online, on 📅 September 20-21, everyone interested can gain new knowledge, attend masterclasses, be among the first to learn about cutting-edge technologies, and be inspired by fresh ideas.
DMEXCO brings together a community of key players in marketing, digital business, and tech. The event provides plenty of opportunities for networking and even striking deals with industry leaders. Don't miss the chance to reap all the benefits of this event!
Take the opportunity to bring new solutions, fresh ideas, and insights from industry leaders to your business, as well as strike exclusive deals with niche leaders.
We look forward to meeting you at DMEXCO and getting to know you in person! You can book a meeting with us here.
Let's reach new heights and conquer the world of affiliate marketing together!
In case of any questions, feel free to contact us 7/24/365.
Read Also: Best Offers for Sport and Betting Verticals