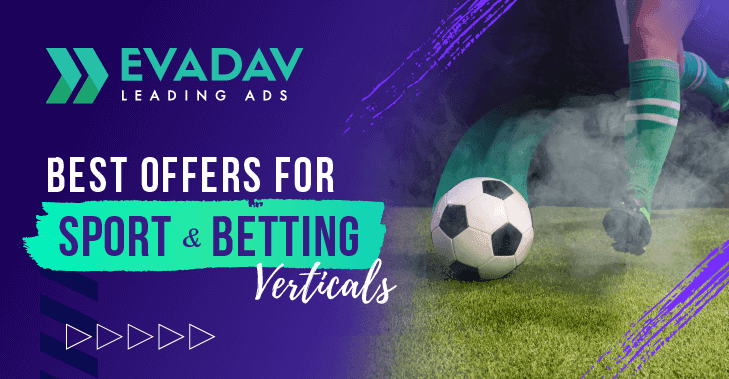 Best Offers for Sport and Betting Verticals
🔥The world of sports and betting is not just about adrenaline and high stakes; it's also about strategic opportunities for marketers and businesses alike. The vertical itself is characterized by its dynamism, seasonal trends, and specific audience segments, contributing to its lucrative allure. But here's the catch: to truly capitalize on this industry's potential, it's crucial to understand the various monetization models available.
From Refshare and CPA to CPL and Hybrid models, each serves a unique purpose and is tailored to different objectives. For instance, while Refshare might be the go-to choice for large networks looking to harness consistent revenue percentages, CPA becomes the gold standard for arbitrageurs, focusing on immediate results and returns.
So, knowing where to put your money can make all the difference, whether you're a seasoned player in the betting industry or just placing your first bet in the affiliate marketing world. Dive in as we unpack the best betting offers for sports and betting verticals.
🚀Commissions Kings Sports Betting Offer
Commissions Rate: 10-45% RevShare
Category: Sports Betting
Another real deal for affiliates is Commissions Kings. Many know it as a reputable company established back in the 1990s. The huge advantage is that this company combines several brands, including:
BetOnline

SportsBetting

SuperSlots

TigerGaming

WildCasino
Such a variety gives advertisers many possibilities for earning commissions with bet offers. The rate depends on the brand an affiliate chooses to promote. Usually, the most profitable and the best betting site offers are from WildCasino. Among other reasons to pick Commission Kings are the progressive rev share and ability to track ad performance. Eventually, every affiliate receives monthly payments.
🚀888 Affiliates Online Betting Offers
Commissions Rate: up to 35% RevShare, $10-60 CPA
Category: Sports Betting
888 Affiliates promises an enjoyable experience for advertisers who choose to promote its services. The company has built a 25 million player base since its appearance in the late 1990s. And today, 888 Affiliates continuously develop by implementing innovative marketing tools. 888 permanently works on sports betting offers.
Every affiliate gets a personal manager who helps them through all processes. An affiliate accesses statistics and various kinds of banners in many languages. No wonder this company won the Best Affiliate Partner Award in 2022.
🚀bet365
Commissions Rate: 30% RevShare
Category: Sports Betting
If an affiliate wants to promote sports and betting giants, bet365 is for them. To say that this company is massive is an understatement since it gathered 63 million players in 150 countries and makes $3 billion annually. Indeed, comfortable conditions for affiliates help to popularize this bookmaker platform, which won the Sports Book of the Year Award in 2019.
Apart from many sports options, bet365 hooks advertisers with 30% lifetime commissions. Plus, cookies' duration here equals three months, significantly increasing affiliates' income. bet365 boasts a convenient one-wallet system for sports, poker, and casino payments!
🚀DraftKings
Commissions Rate: 25-40% RevShare
Category: Sports Betting
Among the most generous offers an affiliate marketer can take is the one from DraftKings. This platform has existed for over ten years, allowing one to place bets on many sports events. It targets players in the US. While most bookmakers focus on live events, DraftKings also works with fantasy sports betting.
Besides the generous commissions reaching forty percent sometimes, the company provides advertisers with the services of an affiliate management team. So, if an affiliate wants to use the newest marketing tools, stats, and content, working with DraftKings is for them!
Generally, the sports and betting vertical is full of various offers for affiliates. Luckily, anyone can choose what fits them best based on the suggested conditions!
🔸Get personalized support and expert guidance from EVADAV experts
🚀Best Geos for Betting Vertical
As of now, the best geos for push, native, and popunder formats to advertise the betting vertical are:
🇮🇩Indonesia
🇮🇳India
🇧🇩Bangladesh
🇧🇷Brazil
🇨🇳China
🇹🇷Turkey
🇺🇦UA
🇺🇿Uzbekistan
🇰🇿Kazakhstan
🇻🇳Vietnam
🔸 Access to the best geos for maximized results 🌏
🌟To Sum Up
Today's sports and betting industry presents a goldmine of opportunities for marketers who understand the terrain. But remember, more is needed just to recognize the potential. Leveraging the right monetization models, targeting prime geos, and collaborating with top-tier platforms are all essential to maximizing your ROI.
🚀Don't forget to test the bundles' work with creatives to choose the ones that will bring the most money. And with our database of publishers, you will be able to launch an effective advertising campaign
Read Also: How to Monetize a Football Event